Currently serving:
Ashland Memorial Medical Center
Book Here For Employee Wellness Massage
Ashland Middle School
Book Here for Ashland Middle School
Sitting at a computer for extended periods of time can cause lower back, shoulder and neck tension & pain. Repetitive stress injuries are also common among office workers, small business owners and most of us that utilize technology.
On-site chair massage at the workplace
is one of the fastest growing wellness benefits that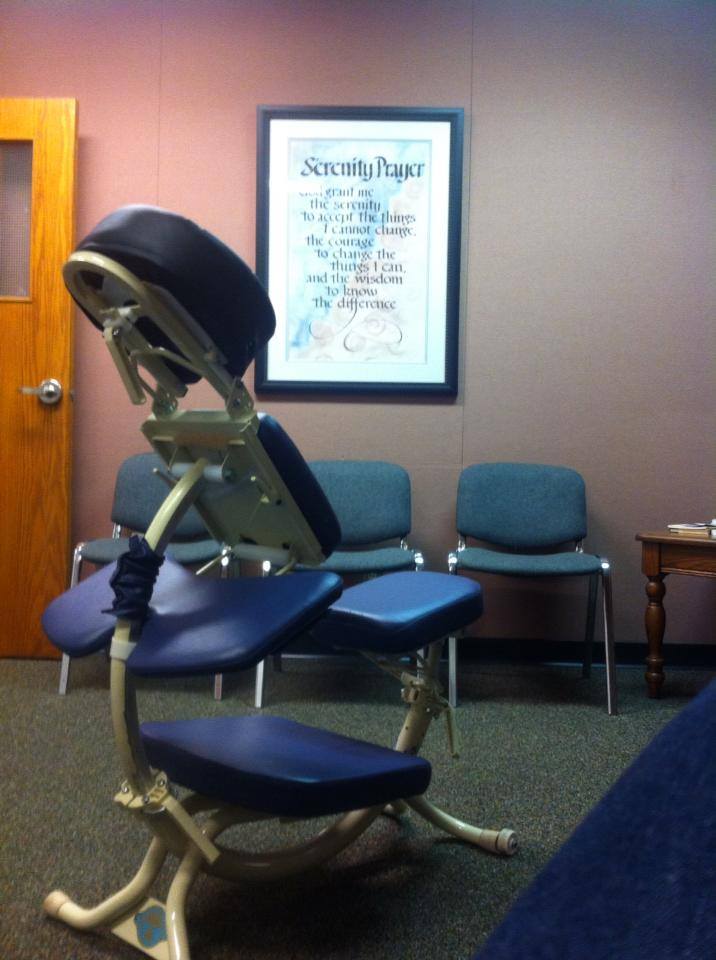 companies offer to their employees.
Share the benefits of Therapeutic Chair Massage with your employees or customers. Offer chair massage at community events, Spa or bridal parties. My chair is lightweight, compact and portable, allowing it to be set up in any office or break room.
Safe, Convenient, Cost-Effective and provides valuable health benefits while increasing morale and productivity. Work place chair massage is a safe environment for a person to learn about massage and receive a first massage.
Offering chair massage at a health fair immediately increases awareness and visibility of the event.
Chair massage has been proven to reduce absenteeism, increase productivity, enhance customer service, boosts employee moral and lower health benefit costs.
Workplace Chair Massage gives employees an economical, healthful release from the anxiety, stress and muscle pain often caused by work-related tensions. The excellent stress-relieving benefit of workplace chair massage gives employees renewed energy and boosts their productivity.
Studies by the Touch Research Institute in Florida show that there are many benefits of seated massage. Immediately after chair massage sessions, the subjects experienced a change in brain waves, which produced heightened alertness and better performance on math problems (they were completed in less time with fewer errors). At the end of a five-week study period, subjects reported reduced job stress and elevated moods. This was in addition to the usual benefits of massage, which are, relief of muscular tension, revitalized energy and a stronger immune system. Findings also show pulse and respiratory rates were reduced after a massage.
From manufacturers to hospitals to financial institutions, companies across the country are using seated chair massage as an employee benefit to reduce stress and enhance the workplace. Seated massage provides employees with a convenient method of alleviating the stress associated with our fast paced society.
A 10 to 20 minute massage relieves tension in the neck, shoulder, back and arm muscles and reduces pain and irritability.