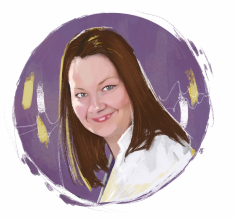 I originally trained for therapeutic massage at Therapeutic Body Concepts in San Antonio, Texas.
While Certified in Massage Therapy in Texas I worked in a variety of spa and clinical settings, all while I maintained a private mobile massage practice.
In 2006 my husband and I moved to Ashland, Wisconsin to start our family and I attended the WITC Therapeutic Massage program to become Nationally Certified by The National Certification Board for Therapeutic Massage & Bodywork (NCBTMB) and licensed in the state of Wisconsin.
2014 is the 10 year Anniversary of my Massage Therapy career. I am so blessed that I have this healing art that that nourishes my soul. I am grateful for every client that that has allowed me to work with them on their healing journey. Massage therapy continues to support me physically and professionally.
As a Massage Therapist, I am committed to providing a Therapeutic & Relaxing experience in order to contribute to Your Wellness goals. As a Massage Therapist here are some of the Continuing Education skills I have acquired in my career to maintain and build my skills to help you heal.
Structural Integration: Effective Evaluation &Mobilization Techniques Presented by Lu MuellerKaul LMT Certified Rolfer, Rolf Movement Teacher
Myofascial Release : Clinical Appications: State of the Art Soft Tissue Mobilization Presented by Theresa A. Schmidt, DPT, MS,OCS, LMT, CEAS, DD
Myofascial Release: with Craniosacral Therapy Presented by Theresa A. Schmidt, DPT, MS,OCS, LMT, CEAS, DD
Integrated Neuromuscular Re-Education Presented by Theresa A. Schmidt, DPT, MS,OCS, LMT, CEAS, DD
Effective Treatment of Common Cervical and Upper Thoracic Pain Conditions Presented by: Sunny Birdstone, LMP
Integrated Techniques for the Cervical Spine Ken DiPersio LMT
Craniosacral Therapy: Enhancing the Body's Natural Healing Capabilities Ken DiPersio LMT
Craniosacral Therapy: Level 2 Releasing the Cranium Ken DiPersio LMT
Craniosacral Therapy: Level 3 Releasing the Face Mouth and TMJ Ken DiPersio LMT
Therapeutic Reflexology Presented by: Judith Nourse RN, ARCB, LMBT
Effective Treatments for Sciatica By Garry Adkins, NCTMB, CMI
Deep Tissue Massage: Safe and Effective Techniques for Common Problem Areas Val Nardo, PhD, LMT, CRC
Releasing the Rotator Cuff: A Massage Therapy Perspective Presented by Peggy Lamb, LMT, MA, NCTMB
Deep Tissue & NMT Workshop Anterior & Posterior Trunk Instructor Tim S. Shehane, RMT, RMI
Zen Shiatsu March 2014 Erica Rosenfeld, LMT, CSP,CI
Understanding the Five Elements of Traditional Chinese Medicine Erica Rosenfeld, LMT, CSP,CI
Heart Mind Shiatsu Harmonizing Heaven and Earth Matthew Sweigart,AOBTA Certified Instructor
A Total Approach for Treating Neck & Scapular Disorders Sue Fleshman-Dupont, MS, PT, ATC

Entrapment Neuropathies of the Upper Extremity

Presented by Susan Stralka PT, DPT, MS

Releasing the Iliopsoas

Presented by Peggy Lamb MA, LMT, NCTMB

Stabilizing the Core & the SI Joint: A Manual Therapy Approach

Presented by Peggy Lamb MA, LMT, NCTMB and Tracy Firsching BA, LMT, NMT

(Re) Defining the Core: The Key to Functional & Corrective Exercise

Presented by David Lemke NMT, seEMG Tech.